Conference on Disarmament
Wikipedia short information
The Conference on Disarmament (CD) is a forum established by the international community to negotiate multilateral arms control and disarmament agreements. Established in 1979, as the Committee on Disarmament, it was renamed to Conference on Disarmament in 1984. It was the forum used by its member states, currently numbering 65, to negotiate the Biological Weapons Convention and the Chemical Weapons Convention.
While the conference is not formally a United Nations (UN) organization, it is linked to the UN through a personal representative of the United Nations Secretary-General; this representative (currently Michael Møller) serves as the secretary general of the conference. Resolutions adopted by the UN General Assembly often request the conference to consider specific disarmament matters. In turn, the conference annually reports its activities to the Assembly.
Link: CD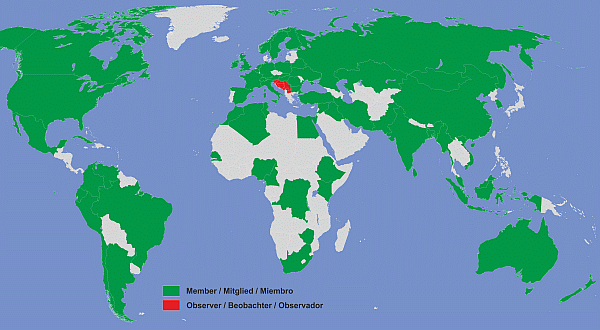 Members, Observers and other participations

Fast selection
List of international
organisations
and treaties
External links change quickly - If you get a link error - Please inform us!