Organization for Security and Co-operation in Europe
Wikipedia short information
The Organization for Security and Co-operation in Europe (OSCE) is the world's largest security-oriented intergovernmental organization. Its mandate includes issues such as arms control, promotion of human rights, freedom of the press, and fair elections. It employs around 3,460 people, mostly in its field operations but also in its secretariat in Vienna, Austria and its institutions. It has its origins in the 1975 Conference on Security and Co-operation in Europe (CSCE) held in Helsinki, Finland.
The OSCE is concerned with early warning, conflict prevention, crisis management, and post-conflict rehabilitation. Its 57 participating states are located in Europe, northern and central Asia, and North America. The participating states cover much of the land area of the Northern Hemisphere. It was created during the Cold War era as an East–West forum.
Link: OSCE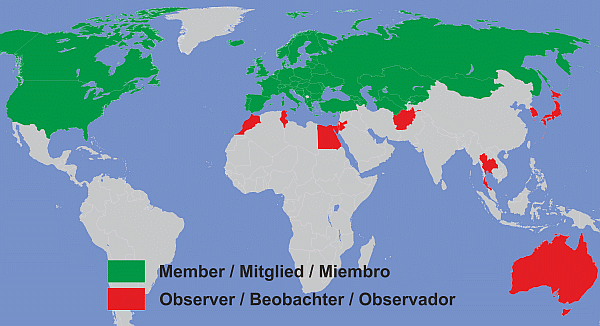 Members, Observers and other participations

Fast selection
List of international
organisations
and treaties
External links change quickly - If you get a link error - Please inform us!