Capital
Currency
Government system
Vatican City
Euro (EUR)
Elective monarchy
Official language
Region
Population
Italian
Latein
Europe
2020 - 801
Country map - Administrative structure - Population density of Vatican City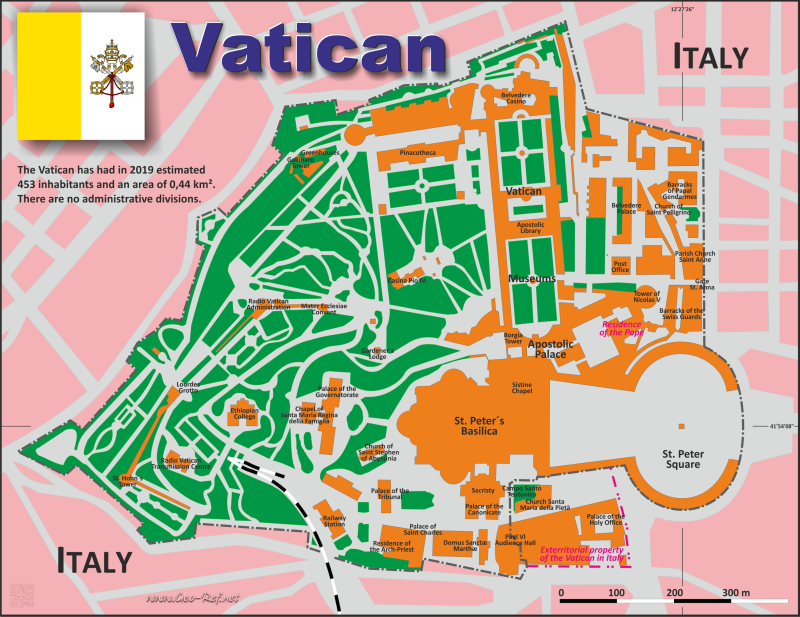 Vatican City - Click on the map to get a enlarged image in PDF format!
Other language versions are easy to generate, the description is in an own layer
Conditions for thematic maps with your own data and logotype
Delivery as printable file by e-mail or plot by post office

| | |
| --- | --- |
| Layer | |
| Province: | yes |
| Streets: | yes |
| Infrastructure: | yes |
| Rivers: | no |

Size
bis A2
Supply in
7 working days
Price
1 bis 3
60 €
> 3
On request

All information published herein is free usable quoting the source,
including the maps, if they are not modified
Statistical Data - Population density according to the administrative structure
For Vatican City is no administrative structure defined.

Membership in international organisations and treaties
Expand list

Political Alliances

Military alliances/Arms control

Law enforcement

Business Alliances

Financial

Free Trade Area, Internal Market

Technical alliances

Transport

Humanitarian Unions

Cultural Unions

| | |
| --- | --- |
| | If you have suggestions to include other information or you find missed links, please inform us! Click here ... |
See also neighboring states
Italy

Fast selection

List of international
organisations
and treaties
Existing
thematical maps
Link-Collection
Country data
Vatican City State - Administrations and Central Offices
German Ministry
of Foreign Affairs

International data
IOM - International Organization
for Migration

Special data
External links change quickly - If you get a link error - Please inform us!