Wikipedia short information
The Commonwealth of Nations (formerly the British Commonwealth), also known as simply the Commonwealth, is an intergovernmental organisation of 52 member states that are mostly former territories of the British Empire. The Commonwealth operates by intergovernmental consensus of the member states, organised through the Commonwealth Secretariat and non-governmental organisations, organised through the Commonwealth Foundation.
The Commonwealth dates back to the mid-20th century with the decolonisation of the British Empire through increased self-governance of its territories. It was formally constituted by the London Declaration in 1949, which established the member states as "free and equal" The symbol of this free association is Queen Elizabeth II who is the Head of the Commonwealth, but this role does not carry any power with it. While there are over 31 republics and five monarchies who have a different monarch, the Queen is the ceremonial head of state and reigning constitutional monarch of 16 members of the Commonwealth, known as Commonwealth realms but retains a crown legally distinct from the other realms with the position as monarch being separate from that of Head of the Commonwealth.
Link: Commonwealth of Nations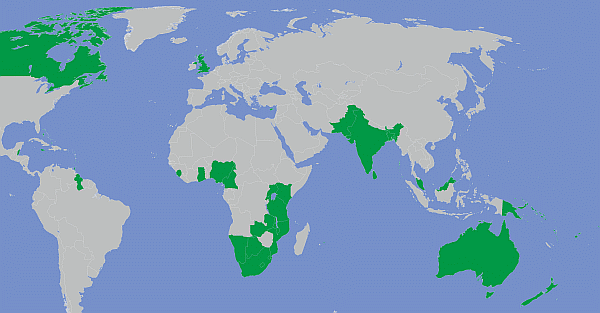 Members, Observers and other participations

Fast selection
List of international
organisations
and treaties
External links change quickly - If you get a link error - Please inform us!