Wikipedia short information
The Group of 15 (G-15) is an informal forum set up to foster cooperation and provide input for other international groups, such as the World Trade Organization (WTO) and the Group of Seven. It was established at the Ninth Non-Aligned Movement Summit Meeting in Belgrade, Yugoslavia, in September 1989, and is composed of countries from Latin America, Africa, and Asia with a common goal of enhanced growth and prosperity. The G-15 focuses on cooperation among developing countries in the areas of investment, trade, and technology. Membership has since expanded to 18 countries, but the name has remained unchanged. Chile, Iran and Kenya have since joined the Group of 15, whereas Yugoslavia is no longer part of the group; Peru, a founding member-state, decided to leave the G-15 in 2011.
Link: G-15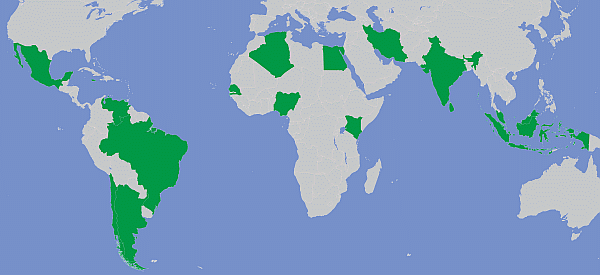 Members, Observers and other participations

Fast selection
List of international
organisations
and treaties
External links change quickly - If you get a link error - Please inform us!