International Commission for the Conservation of Atlantic Tunas
Wikipedia short information
The International Commission for the Conservation of Atlantic Tunas (ICCAT) is an intergovernmental organization responsible for the management and conservation of tuna and tuna-like species in the Atlantic Ocean and adjacent seas. The organization was established in 1969, at a conference in Rio de Janeiro, Brazil, and operates in English, French and Spanish. The organisation has been strongly criticised by scientists for its repeated failure to conserve the sustainability of the tuna fishery by consistently supporting over-fishing – an internal review branded ICCAT's policies on the eastern Atlantic bluefin tuna fishery a "travesty of fisheries management", and an "international disgrace". Conservationists often refer to ICCAT as "The International Conspiracy to Catch All Tuna".
Link: ICCAT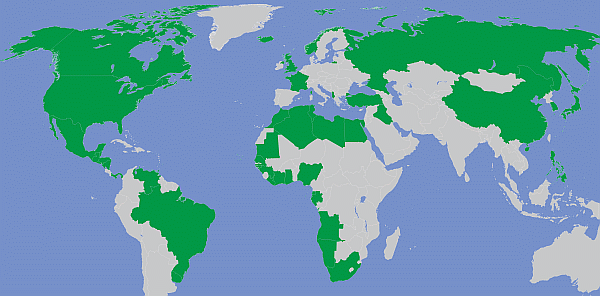 Members, Observers and other participations
Member organiations

Fast selection
List of international
organisations
and treaties
External links change quickly - If you get a link error - Please inform us!