Economic Cooperation Organization
Wikipedia short information
The Economic Cooperation Organisation or ECO is a Eurasian political and economic intergovernmental organization which was founded in 1985 in Tehran by the leaders of Iran, Pakistan and Turkey. It provides a platform to discuss ways to improve development and promote trade and investment opportunities. The ECO is an ad hoc organisation under the United Nations Charter (Chap. VIII). The objective is to establish a single market for goods and services, much like the European Union. ECO's secretariat and cultural department are located in Iran, its economic bureau is in Turkey and its scientific bureau is situated in Pakistan.
The nature of ECO is that it consists of predominantly Muslim-majority states as it is a trading bloc for the Central Asian states connected to the Mediterranean through Turkey, to the Persian Gulf via Iran, and to the Arabian sea via Pakistan. The current framework of ECO expresses itself mostly in the form of bilateral agreements and arbitration mechanisms between individual and fully sovereign member states. This makes ECO similar to ASEAN in that it is an organisation that has its own offices and bureaucracy for implementation of trade amongst sovereign member states.
Link: ECO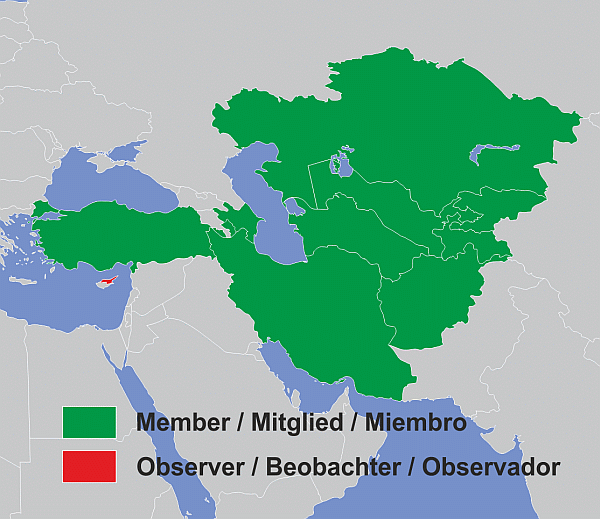 Members, Observers and other participations

Fast selection
List of international
organisations
and treaties
External links change quickly - If you get a link error - Please inform us!