Wikipedia short information
The Arab League, formally the League of Arab States, is a regional organization of Arab states in and around North Africa, the Horn of Africa and Arabia. It was formed in Cairo on 22 March 1945 with six members: Kingdom of Egypt, Kingdom of Iraq, Transjordan (renamed Jordan in 1949), Lebanon, Saudi Arabia, and Syria. Yemen joined as a member on 5 May 1945. Currently, the League has 22 members, but Syria's participation has been suspended since November 2011, as a consequence of government repression during the Syrian Civil War.
Link: Arab League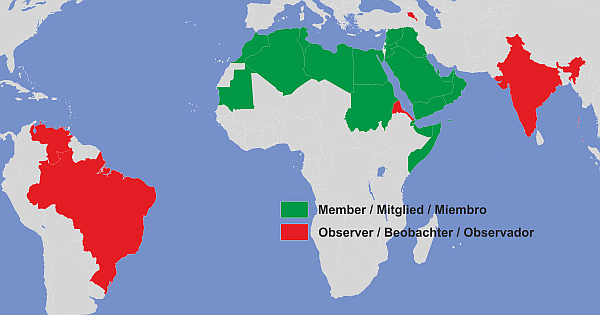 Members, Observers and other participations

Fast selection
List of international
organisations
and treaties
External links change quickly - If you get a link error - Please inform us!