Union of South American Nations
Wikipedia short information
The Union of South American Nations (USAN; Spanish: Unión de Naciones Suramericanas, UNASUR; Portuguese: União de Nações Sul-Americanas, UNASUL; Dutch: Unie van Zuid-Amerikaanse Naties, UZAN; and sometimes referred to as the South American Union) is an intergovernmental regional organization comprising 12 South American countries.
The UNASUR Constitutive Treaty was signed on 23 May 2008, at the Third Summit of Heads of State, held in Brasília, Brazil. According to the Constitutive Treaty, the Union's headquarters will be located in Quito, Ecuador. On 1 December 2010, Uruguay became the ninth state to ratify the UNASUR treaty, thus giving the union full legality. As the Constitutive Treaty entered into force on 11 March 2011, UNASUR became a legal entity during a meeting of Foreign Ministers in Mitad del Mundo, Ecuador, where they had laid the foundation stone for the Secretariat Headquarters. The South American Parliament will be located in Cochabamba, Bolivia, while the headquarters of its bank, the Bank of the South are located in Caracas, Venezuela.
Link: USAN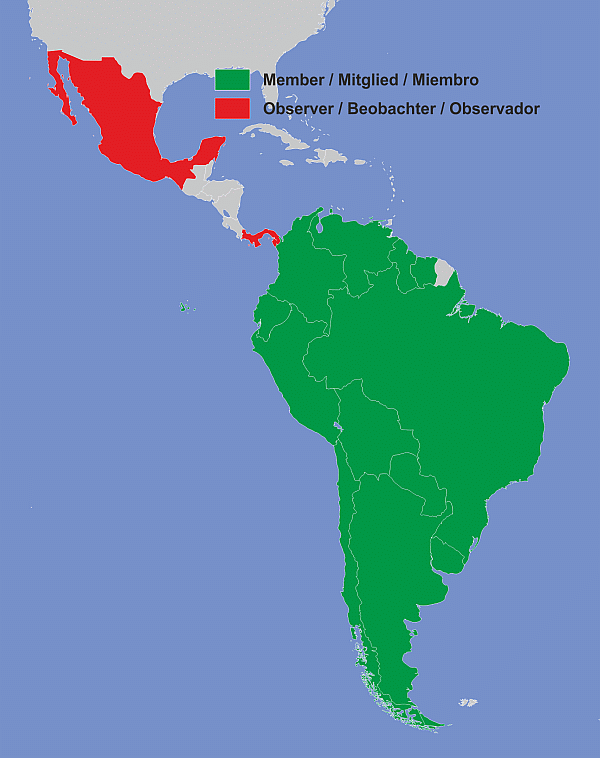 Members, Observers and other participations

Fast selection
List of international
organisations
and treaties
External links change quickly - If you get a link error - Please inform us!