Somaliland
Capital
Currency
Government system
Hargeisa
Somaliland-Shilling (SQS)
De facto government
Official language
Region
Population
Somalí
Arabic
English
Africa
2017 - 3 508 180
Country map - Administrative structure - Population density of Somaliland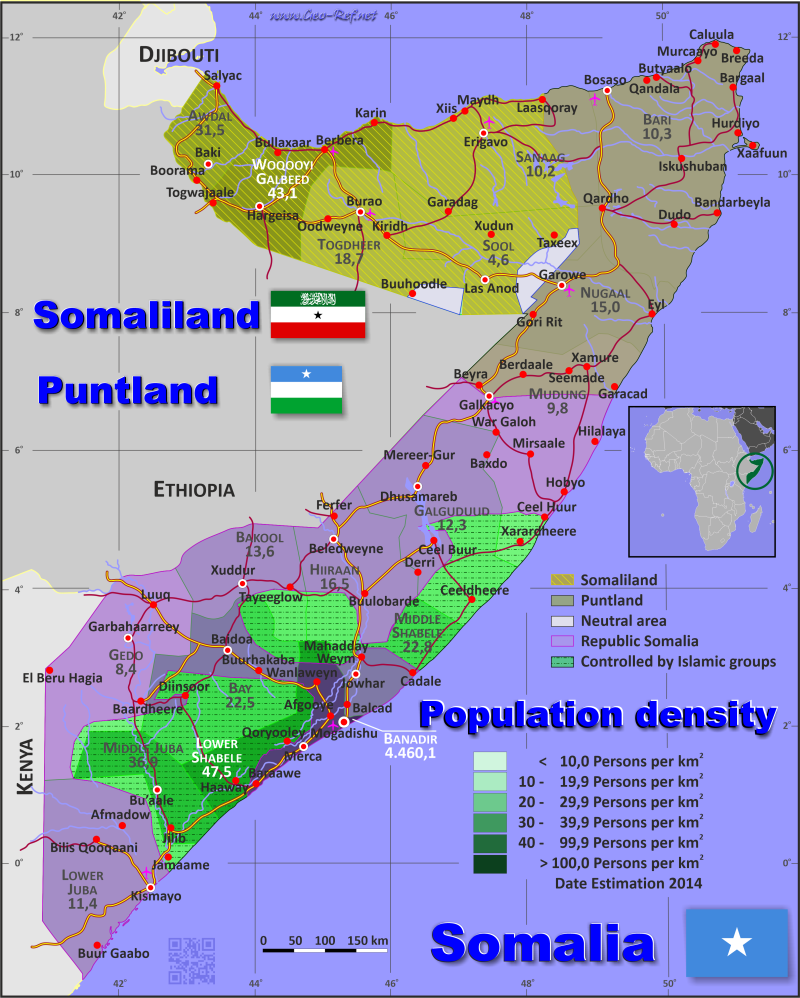 Somaliland map - Click the map to get map as PDF file.
Other language versions are easy to generate, the descriptions are in own layers
Conditions for thematic maps with your own data and logotype
Delivery as printable file by e-mail or plot by post office


| | |
| --- | --- |
| Layers | |
| Provinces: | yes |
| Streets: | yes |
| Infrastructure: | yes |
| Rivers: | yes |

Size
Till A2
Delivery time
7 working days
Price
1 bis 3
50 €
> 3
On request


All information published herein is free usable quoting the source,
including the maps, if they are not modified
Statistical data - Population density according to the administrative structure
The population data of the table below is census data from 2016, last available data.
The statistical data are inaccurate - either derived from the structure of Somalia, or from secondary sources.
Click on the column header brings the table in order of the column header.
The default order is the region name.
Region
ISO
3166-2
Capital
Area
(km˛)
Population
Density
(pers/km˛)
Total
167 283
3 508 180
21,0
Last update: 11.08.2023 - 16:30:41
Awdal
SO-AW
Baki
21 374
673 263
31,5
Sanaag
SO-SA
Erigavo
53 374
544 123
10,2
Sool
SO-SO
Las Anod
25 036
327 428
13,1
Togdheer
SO-TO
Burao
38 663
721 363
18,7
Woqooyi Galbeed
SO-WO
Hargeisa
28 836
1 242 003
43,1
| | |
| --- | --- |
| Existing thematic maps | External links change quickly - If you get a link error - Please inform us! |


Link colection Somaliland



Country data

International Data

Special Data

See also neighboring states